How Often Should You Schedule a Car Alignment?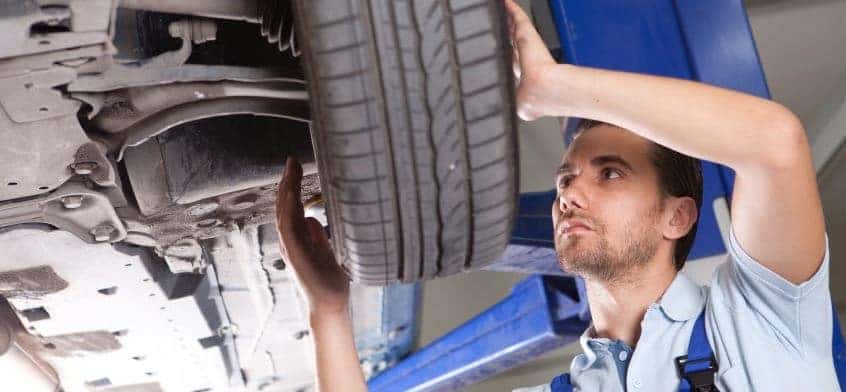 Whether you drive a car, truck, or SUV, the wheels that rest against the pavement are always under stress. For that reason, it is imperative that your tires are properly aligned! To inform you about this important service, the staff at Knoepfler Chevrolet put together this overview, so read on to learn more.
What Is a Wheel Alignment?
Whenever you hit potholes, speed bumps, or large divots in the road, your suspension and wheels mitigate the force of the impact. However, over time, your wheels can become unaligned and cause a number of problems for your automobile. In order to counteract this, you should get a routine wheel alignment! This consists of adjusting the angle of each component to get them back to manufacturer guidelines. While the timeframe will differ from one vehicle to the next, it is recommended that such a project is performed at least once every two to three years. Of course, if you frequently drive in rocky areas or take your model off the beaten path, you will want to get your wheels aligned more often. For more specific timelines, check your Owner's Manual and reach out to our service team.
Warning Signs
If you are wondering if your specific set of wheels is due to be straightened out, then there are some red flags that you can watch out for. First of all, a telltale sign of misalignment is when your model pulls to one side of the street. When on a flat road, if your steering wheel steadily tugs to the left or right, this means that you should come by our Service Center. Furthermore, a wobbling of the steering wheel or excess road noise might mean your ride requires maintenance as well. If you avoid this task, you run the risk of axle damage, which is a much more costly fix. Also, misaligned wheels can tend to cause inefficiency and make it easier to lose control of your vehicle on difficult terrain. For these reasons, be sure to schedule routine care for your model!
Our Service Center
When you're ready to have your car aligned, make Knoepfler Chevrolet your next stop. Our trained service team will make quick work of this task, so consider lumping it together with other necessary projects like oil changes and cabin air filter replacements. To make your time at our location as affordable as possible, we provide a plethora of service offers that you can make use of. Our Parts Center is also a great resource for at-home mechanics to find the specific items on their shopping list. Just request what you need, and even if we don't have it on hand at the moment, we'll order it for you.
So, how often should you schedule a car alignment? We hope that this overview has answered that question. Reach out to us at Knoepfler Chevrolet to get the full scoop on this important service task, and then visit us during our open hours.