About Us
OUR HISTORY
Knoepfler Chevrolet Co. is a family-owned business located in Sioux City, IA.

Since its founding in 1922, when Duane Kidder and Ryal Miller set up business, the dealership has continued to provide Sioux City residents with dependable and reliable sales and service.

"We are proud of our longevity and our history, "stated owner Charlie Knoepfler. "The dealership has always tried to do the best for our customers, and I hope that shows in the way that we do business."

Ryal Miller Chevrolet served as a distributor and dealership for Chevrolet products. They relied heavily on parts and service sales, and sold whatever they could to make a go.

Miller and Kidder's business made its home at several downtown Sioux City locations, moving in the 1930s to the corner of Ninth and Pierce streets, where the main facility operated until 1971. Before moving to its present site at 100 Jackson Street, the auto dealership was doing business at several sites around town. A desire to group all of the company's business interests at one location prompted the move to the present business complex. Coordinating the move to the present location was Jim Knoepfler. Jim joined the dealership as a truck salesman in 1952.

There have been several name changes throughout the years. The Kidder-Knoepfler name was adopted in 1965. In 1979, after the death of Duane Kidder, the present Knoepfler Chevrolet Co. name was chosen. Jim Knoepfler became president of the company in 1963. In 1989 Jim retired from active participation at the dealership.
Mon - Thu

8:00 AM - 7:00 PM




Fri

8:00 AM - 6:00 PM




Sat

8:00 AM - 5:00 PM




Sun

Closed
Mon - Fri

8:00 AM - 5:00 PM




Sat - Sun

Closed
Mon - Fri

7:00 AM - 5:30 PM




Sat

8:00 AM - 12:00 PM




Sun

Closed
Mon

7:00 AM - 5:30 PM




Tue - Fri

8:00 AM - 5:30 PM




Sat

8:00 AM - 12:00 PM




Sun

Closed
Mon - Fri

7:30 AM - 5:30 PM




Sat - Sun

Closed
Mon

8:00 AM - 7:00 PM




Tue - Fri

8:00 AM - 5:00 PM




Sat - Sun

Closed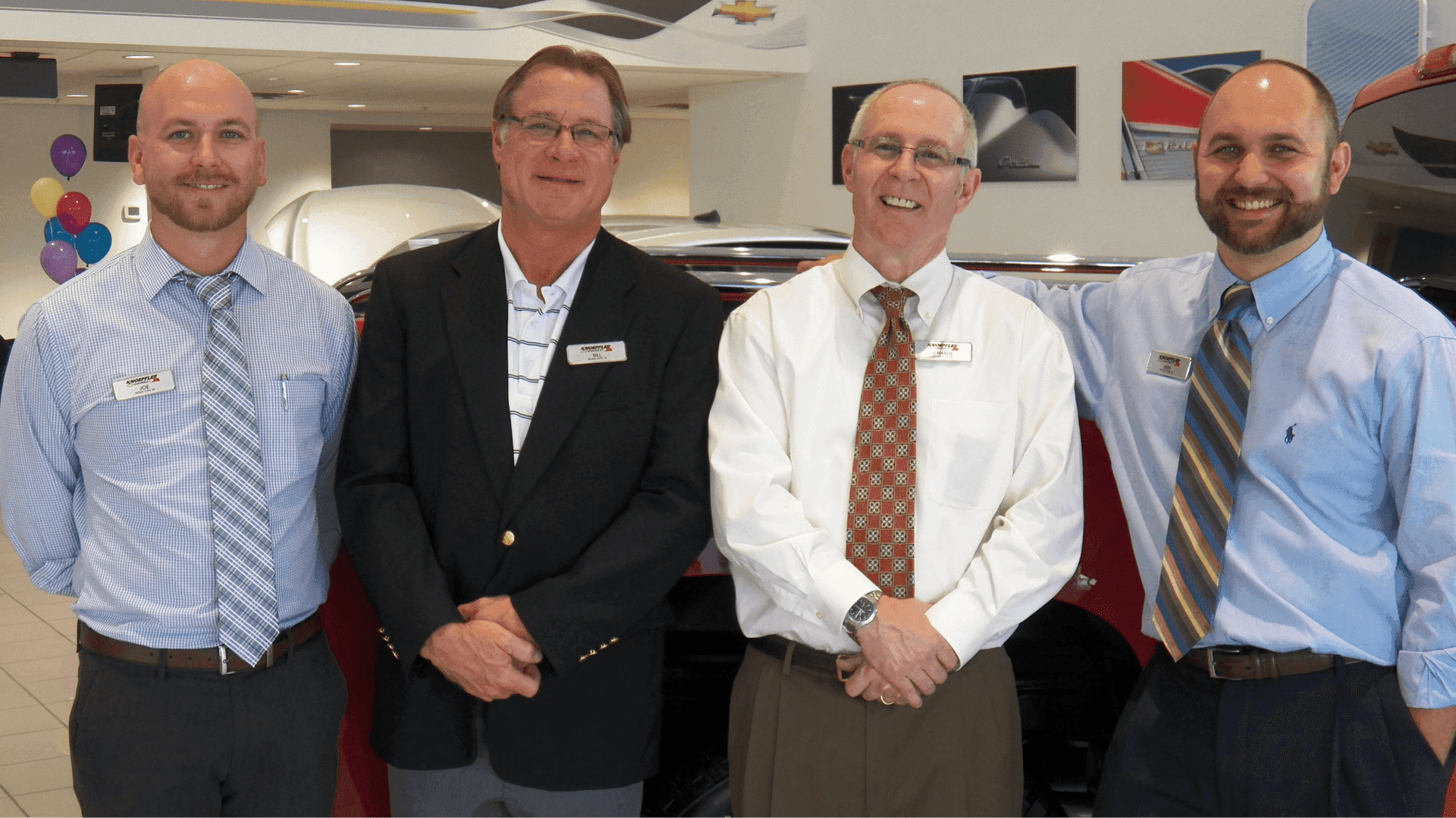 MEET THE KNOEPFLERS
Joe, Bill, Charlie, Ben
In addition to Jim's son Charlie, a son, Bill, joined the dealership in 1982 as the parts manager.

Knoepfler Chevrolet Co. follows a team concept. "There isn't one person running the show," stated Charlie Knoepfler. "The 106 employees are responsible for our success or struggles."

Our business focuses on customer satisfaction. Bill Knoepfler commented, "If you treat people well, the way you want to be treated, you'll develop a relationship that will continue for years. Our customers, whether it be in sales, service, collision, or parts, are key to our success. We know that and we strive to please every customer who comes to our dealership."

The Chevy dealership looks forward to carrying on the tradition with the next generation of Knoepfler's - Charlie's children Ben and Joe. Ben Knoepfler is the General Manager and Joe Knoepfler is the Director of Operations.
"The family of Bill Knoepfler thanks all of you who showed us support during the time of his illness and death. If we missed sending you a personal thank you please accept our apologies and know that we did appreciate all you did to honor Bill. Those of you who sent donations in his name to Mayo Clinic and to local non-profits - thank you; Mayo Clinic, where he received thoughtful and hopeful care, and local non-profits will also benefit from the cash donations received. One last thing we ask of you, look carefully the next time you're at the ocean - some souls get to dive the coral reefs forever!"

Sincerely, ~Jackie, Abbie, Neal and Olivia