Employee Of the Month
Congratulations to our Employee of the Month, August!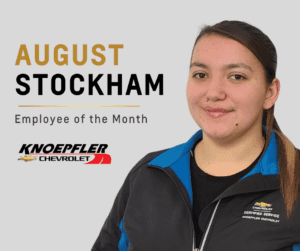 Here are a few reasons leaders nominated this outstanding employee:
She has an incredible work ethic and an even better attitude.
She is a great addition to the Knoepfler team.
Great attitude and always keeping busy.
Truly an asset to Kchev.
She is making a difference that is noticeable to customers and employees alike.
The details matter to her, so she makes sure everything is sparkling clean. (Even the things people don't always see.)
She's willing to take on new responsibilities adding to her already strong, but ever-growing skillset.