Employee Of the Month
Congratulations to our Employee of the Month, Alicia Behrens!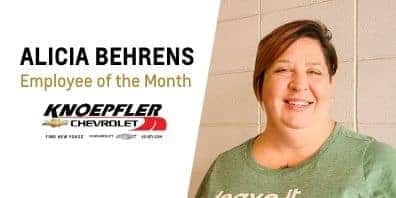 Here are a few reasons leaders nominated this outstanding employee:
She does a fantastic job with the GM Rewards program and we are the top dealership in our zone in that area because of it!  Great job Alicia!
She's very thorough and is a great asset to Knoepfler Chevrolet.
She is very knowledgeable in her role as warranty administrator and a valuable resource in the office.
She's reliable, skilled and puts her whole heart into everything she does.
Alicia goes out of her way to celebrate co-workers so they feel special and appreciated.
She volunteers her time to be a part of after hours events and has a great time doing it.
She's a great listener and goes out of her way to make sure you feel heard and taken care of.
She has contact with a great deal of customers and does a great job making sure they are happy. She's definitely a valued employee.