KNOEPFLER CHEVROLET SUPPORTS CHEVY'S EDUCATOR DISCOUNT PROGRAM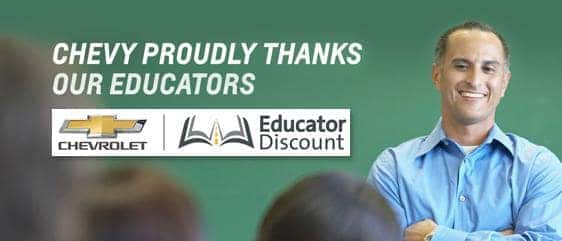 The GM Educator Discount Program In appreciation of the hardworking education community, current employees of a public school, private school, college, or university can get the GM Educator Discount.* This great value gives you a special price below the MSRP. Combine this discount with most current offers – to save even more on the purchase or lease of eligible, new Chevrolet vehicles.
To take advantage of this opportunity, you must request an authorization number. Authorization numbers may be requested for the purchase or lease of a total of two vehicles per calendar year and are valid for six months from the date of request.
Follow these easy steps to save:
1. Sign in or register at gmeducatordiscount.com
Select "Obtain Authorization" from the Program menu and follow the prompts.
3. Print your authorization number and take it to your participating GM dealer along with a copy of your school ID/badge or a copy of a current pay stub.**
All purchases must comply with the Program's Rules and Guidelines. Any questions? Find answers in Frequently Asked Questions.

*Must be employed by a public school, private school, college or university. Please note that employees of state or municipal governments may be subject to restrictions that limit their ability to accept this offer. Accordingly, this offer is void unless permitted by state and municipal laws, regulations, rules, ordinances, policies, codes of conduct, and other directives or standards regarding ethics and gift acceptance by state and municipal employees. By accepting this offer, you verify that it complies with all restrictions regarding ethics and gift acceptance that apply to you.
**Pay stub must be dated within last 30 days. All information must be redacted except the date, purchaser's name and school name.